About Us
Dragon Palace Chinese Takeaway is a Chinese takeaway in Oldham. Why don't you try our Chicken with Ginger & Spring Onion or Kung Po Bean Curd?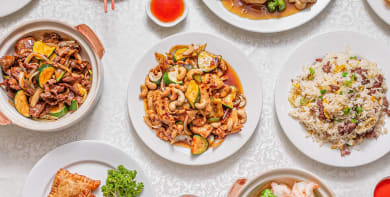 Reviews
182 reviews
Thomas
"Was a cracking meal ordered a few different things for all family to share we wasn't disappointed and everything got eat"
11/10/2021
Yewande
"The lady that delivered it was so nice and i didn't get her name!"
23/09/2021
Dylan
"The food was colder than expected and didn't taste very nice, in my opinion. But, it arrived on time so there is credit in that."
17/09/2021
Shezell
"Hot, delicious, very tasty and fresh everytime."
26/08/2021
Menu
Dim Sum Meal
Siu Mai (2), Steamed Pork Dumpling (2), Har Kau (2) & Char Siu Bun (2)
£9.00
Fortune Mixed Hor`s D`oeuvres - For 2 Persons
(For 3 Person, all includes 3 items)
Spare Ribs (2), Chicken on Skewers (2), Spring Rolls (2), Sesame Prawn on Toast (2), Butterfly King Prawns (2), Seaweed, Sweet & Sour Sauce
£9.50
Salt & Pepper Mixed Hor`s D`oeuvres
For 2 Persons
Salt & Peppers Chicken, Salt & Pepper Chicken Wings, Salt & Pepper Spare Ribs, Salt & Pepper King Prawns
£9.30
Aromatic Crispy Duck Quarter
£9.50
Aromatic Crispy Duck Half
£17.00
Spare Ribs in Honey Sauce
£7.60
Salt & Pepper Spare Ribs (In Batter)
£6.20
Spare Ribs in O.K. Sauce (In Batter)
£6.20
Salt & Pepper Chicken Wings
£5.30
Sweet & Chilli Chicken Wings
£5.30
Chicken Wings in O.K Sauce
£5.30
Fried Fun Gor (6)
Separate sauce
£5.30
Vegetarian Spring Rolls (10)
£3.00
Sesame King Prawn on Toast (6)
£4.80
Sesame Chicken on Toast (6)
£4.50
Satay Chicken on Skewers (5)
Contains: Nuts
£5.60
Satay Beef on Skewers (5)
Contains: Nuts
£5.60
Satay King Prawn on Skewers (5)
Contains: Nuts
£6.90
Grilled Pork Dumplings (6)
£5.70
Steamed Pork Dumplings (6)
£5.60
Sui Mai (6) (Pork & Prawn)
£5.20
Slice Chicken with Salt & Pepper
£6.00
Salt & Pepper Shredded Beef
£6.20
Salt & Pepper King Prawns (8)
£6.80
Butterfly King Prawns (8)
£6.50
Deep Fried Crab Claws (4)
£4.20
Deep Fried Crispy Won Tons (8)
£4.60
Crabmeat & Sweetcorn Soup
£3.10
Chicken with Ginger & Spring Onion
£6.00
Chicken with Green Pepper in Black Bean Sauce
£6.00
Chicken with Chilli Sauce
£6.00
Chicken with Mixed Vegetables
£6.00
Chicken with Black Pepper Sauce
£6.00
Chicken with Cashew Nuts in Yellow Bean Sauce
Contains: Nuts
£6.00
Chicken with Peking Sauce
£6.00
Kung Po Chicken
Contains: Nuts
£6.00
Chicken with Oyster Sauce
£6.00
Chicken with Chilli Honey Sauce
£6.00
Chicken with Satay Sauce
Contains: Nuts
£6.00
Sweet & Sour Chicken Balls
with Butter & Separate Sauce
£6.30
Chicken with Sweet & Sour Sauce
Chicken with Butter and includes Green Pepper, Onion, Pineapple, Sweet & Sour Sauce
£6.00
Crispy Shredded Chicken
Chicken with Butter and includes Carrot, Onion with Sweet Chilli Sauce
£6.00
Crispy Shredded Chicken in O.K. Sauce
Chicken with Butter with O.K. Sauce
£6.00
Chicken with Szechuan Sauce
£6.00
Chicken with Cashew Nuts
Contains: Nuts
£6.00
Beef with Ginger & Spring Onion
£6.20
Beef with Green Pepper in Black Bean Sauce
£6.20
Beef with Straw Mushrooms & Broccoli
£6.20
Beef with Mixed Vegetables
£6.20
Beef with Cashew Nuts
Contains: Nuts
£6.20
Beef with Black Pepper Sauce
£6.20
Beef with Satay Sauce
Contains: Nuts
£6.20
Crispy Shredded Beef
Beef with Butter and includes Carrot, Onion with Sweet Chilli Sauce
£6.20
Crispy Shredded Beef in O.K. Sauce
Beef with Butter with O.K. Sauce
£6.20
Fillet Steak with Ginger & Spring Onion
£9.50
Fillet Steak with Green Pepper in Black Bean Sauce
£9.50
Fillet Steak Cantonese Style
£9.50
Fillet Steak with Chilli Sauce
£9.50
Fillet Steak with Black Pepper Sauce
£9.50
Fillet Steak with Szechuan Sauce
£9.50
Fillet Steak with Satay Sauce
Contains: Nuts
£9.50
Fillet Steak with Chilli Honey Sauce
£9.50
House Special Curry
King Prawns, Chicken, Roast Pork, Beef, Mushrooms, Onion, Peas
£6.80
Mixed Meat with Ginger & Spring Onion
£6.90
Mixed Meat with Green Pepper in Black Bean Sauce
£6.90
Mixed Meat with Satay Sauce
£6.90
Mixed Meat with Cashew Nuts
Contains: Nuts
£6.90
Kung Po Mixed Meat
Conatins: Nuts
£6.90
Mixed Meat with Cashew Nuts in Yellow Bean Sauce
Contains: Nuts
£6.90
Mixed Meat Cantonese Style
£6.90
Mixed Meat with Black Pepper Sauce
£6.90
Mixed Meat with Mushrooms
£6.90
Mixed Meat with Chilli Honey Sauce
£6.90
Mixed Meat with Chilli Sauce
£6.90
Mixed Meat with Szechuan Sauce
£6.90
King Prawns with Ginger & Spring Onion
£6.70
King Prawns with Green Pepper in Black Bean Sauce
£6.70
King Prawns with Mushrooms
£6.70
King Prawns with Cashew Nuts
Contains: Nuts
£6.70
King Prawns with Mixed Vegetables
£6.70
King Prawns with Satay Sauce
Contains: Nuts
£6.70
King Prawns with Chilli Sauce
£6.70
King Prawns with Black Pepper Sauce
£6.70
King Prawns with Broccoli
£6.70
King Prawns with Chilli Honey Sauce
£6.70
King Prawns with Szechuan Sauce
£6.70
King Prawns with Tomatoes
£6.70
King Prawns with Sweet & Sour Sauce
King Prawns with Butter and includes Green Pepper, Onion, Pineapple, & Sweet & Sour Sauce
£6.70
Sweet & Sour King Prawns Balls
King Prawns with Butter and Separate Sauce
£7.00
Roast Pork with Beansprouts
Sliced Roast Pork on the Beansprouts with BBQ Sauce
£6.00
Roast Pork with Honey Sauce
Sliced Roast Pork on the Pok Chey with Honey Sauce
£6.00
Roast Pork with Green Pepper in Black Bean Sauce
£6.00
Roast Pork in Black Pepper Sauce
£6.00
Roast Pork Cantonese Style
£6.00
Roast Pork with Chilli Honey Sauce
£6.00
Roast Pork with Mushrooms
£6.00
Sweet & Sour Roast Pork Balls
Roast Pork with Butter & Separate Sauce
£6.00
Roast Pork with Sweet & Sour Sauce
Roast Pork with Butter and includes Onion, Pineapple, Green Pepper, Carrot with Sweet & Sour Sauce
£6.00
Roast Pork in O.K. Sauce
Roast Pork with Butter and includes Onion, Peas with O.K. Sauce
£6.00
Roast Duck with Ginger & Spring Onion
£6.80
Roast Duck with Green Pepper in Black Bean Sauce
£6.80
Roast Duck in Black Pepper Sauce
£6.80
Roast Duck with Chilli Honey Sauce
£6.80
Roast Duck with Mixed Vegetables
£6.80
Roast Duck with Mushrooms
£6.80
Roast Duck Hong Kong Style
Duck on the Pok Chey with Chef`s Sauce
£6.80
Roast Duck with Beansprouts
Duck on Beansprouts with- BBQ Sauce
£6.80
Roast Duck in O.K. Sauce
Duck with Butter on the Lettuce with O.K. Sauce
£6.80
Roast Duck with Plum Sauce
£6.80
Mixed Seafood with Ginger & Spring Onion
£6.90
Mixed Seafood with Green Pepper
In Black Bean Sauce
£6.90
Mixed Seafood in Black Pepper Sauce
£6.90
Mixed Seafood with Cashew Nuts
Contains: Nuts
£6.90
Mixed Seafood with Beansprouts
£6.90
Mixed Seafood with Chilli Sauce
£6.90
Mixed Seafood with Satay Sauce
Contains: Nuts
£6.90
Mixed Seafood with Szechuan Sauce
£6.90
House Special with Ginger & Spring Onion
£7.30
House Special with Green Pepper
In Black Bean Sauce
£7.30
House Special with Satay Sauce
£7.30
House Special with Cashew Nuts
Contains: Nuts
£7.30
Kung Po House Special
Contains: Nuts
£7.30
House Special Cashew Nuts with Yellow Bean Sauce
Contains: Nuts
£7.30
House Special Cantonese Style
£7.30
House Special in Black Pepper Sauce
£7.30
House Special with Mushrooms
£7.30
House Special with Chilli Honey Sauce
£7.30
House Special with Chilli Sauce
£7.30
House Special in O.K. Sauce
Includes King Prawns, Sliced Beef, Chicken, Pork with O.K. Sauce
£7.30
Beancurd with Green Pepper in Black Bean Sauce
£5.40
Beancurd with Sweet & Sour Sauce
£5.40
Kung Po Beancurd
Contains: Nuts
£5.40
Beancurd in Black Pepper Sauce
£5.40
Beancurd with Satay Sauce
Contains: Nuts
£5.40
Mixed Vegetables with Garlic
£4.30
Mixed Vegetables with Beansprouts
£4.30
Straw Mushrooms & Broccoli
£5.40
Stir Fried Three Kinds of Mushrooms
Straw Mushrooms, Mushrooms, Chinese Mushrooms
£5.50
Luo Han Mixed Vegetables
Beancurd, Straw Mushrooms, Sweetcorn, Garlic, Carrot, Pok Chey, Onion
£5.90
Yung Chow Fried Rice
Shrimp, Sliced Chicken, Sliced Roast Pork and Peas
£5.90
Singapore Fried Rice
King Prawn, Sliced Chicken, Sliced Roast Pork, Peas with Singapore Sauce
£6.30
Duck Fried Rice
Fried Rice, Pok Choy, Sliced Duck with Gravy Sauce
£6.90
Chicken & Pineapple Fried Rice
£6.10
Mixed Vegetable Fried Rice
£5.10
House Special Fried Rice
King Prawn, Beef, Chicken, Roast Pork, Onion, Carrot, Pok Choy, Straw Mushrooms and Bamboo Shoots
£6.90
Double Happy Fried Rice (Chef Special) Curry Sauce
Egg Fried Rice with Pok Choy, Roast Duck and Roast Chicken
Gravy or Curry Sauce
£6.90
Double Happy Fried Rice (Chef Special) Gravy Sauce
Egg Fried Rice with Pok Choy, Roast Duck and Roast Chicken
Gravy or Curry Sauce
£6.90
Double Lucky Fried Rice (Chef Special) Curry Sauce
Egg Fried Rice with Pok Choy, Roast Pork and Roast Chicken
Gravy or Curry Sauce
£6.90
Double Lucky Fried Rice (Chef Special) Gravy Sauce
Egg Fried Rice with Pok Choy, Roast Pork and Roast Chicken
Gravy or Curry Sauce
£6.90
Chow Mein with Beansprouts
£4.50
Mixed Vegetable Chow Mein
£5.00
House Special Chow Mein
Deep Fried Noodles with Prawn, Beef, Chicken, Roast Pork, Pok Choy, Carrot, Straw Mushrooms, Onion, Bamboo Shoots
£6.80
House Special Udon
Prawn, Chicken, Beef, Roast Pork
£7.00
House Special Foo Yung
Chicken, Beef, Roast Pork, Prawn
£7.00
Mixed Vegetable Vermicelli
£5.60
Roast Chicken Breast
with Chips, Mushrooms, Peas, Onion, Tomatoes and Gravy Sauce
£7.40
Omelette with Chips & Peas
£5.40
Mushroom Omelette with Chips & Peas
£5.70
Chicken Omelette with Chips & Peas
£5.90
Beef Omelette with Chips & Peas
£5.90
King Prawn Omelette with Chips & Peas
£6.70
Special Omelette with Chips & Peas
£7.00
Chips, Fried Rice & Curry
£4.60
Coca-Cola Original Taste 330ml Can
£1.20
Banana Fritter with Syrup
£3.20
Pineapple Fritter with Syrup
£3.20
Special Set Dinner A - For One Person
Chicken Sweetcorn Soup
Mixed Vegetables
Chicken With Green Pepper in Black Bean Sauce
Egg Fried Rice
£15.00
Special Set Dinner B - For One Person
Hot & Sour Soup
Mixed Vegetables
Sweet & Sour Roast Pork
Egg Fried Rice
£15.00
Set Meal For 2
Starter:
Chicken Sweetcorn Soup
Prawn Crackers
Spare Ribs
Spring Rolls
Prawn on Toast
Main Course:
Sweet & Sour Chicken
Beef with Green Pepper in Black Bean Sauce
Mixed Vegetable
Yeung Chow Fried Rice
£28.00
Set Meal For 3 as for 2
Starter:
Chicken Sweetcorn Soup
Prawn Crackers
Spare Ribs
Spring Rolls
Prawn on Toast
Main Course:
Sweet & Sour Chicken
Beef with Green Pepper in Black Bean Sauce
Mixed Vegetable
Yeung Chow Fried Rice
Roast Pork with Satay Sauce Extra
Contains: Nuts
£42.00
Set Meal For 4 as for 3
Starter:
Chicken Sweetcorn Soup
Prawn Crackers
Spare Ribs
Spring Rolls
Prawn on Toast
Main Course:
Sweet & Sour Chicken
Beef with Green Pepper in Black Bean Sauce
Mixed Vegetable
Yeung Chow Fried Rice
King Prawns with Cashew Nuts Extra
Contains: Nuts
£56.00
Set Meal For 5 as for 4
Starter:
Chicken Sweetcorn Soup
Prawn Crackers
Spare Ribs
Spring Rolls
Prawn on Toast
Main course:
Sweet & Sour Chicken
Beef with Green Pepper in Black Bean Sauce
Mixed Vegetable
Yeung Chow Fried Rice
Duck with Oyster Sauce Extra
£70.00
Set Meal For 6 as for 5
Starter:
Chicken Sweetcorn Soup
Prawn Crackers
Spare Ribs
Spring Rolls
Prawn on Toast
Main course:
Sweet & Sour Chicken
Beef with Green Pepper in Black Bean Sauce
Mixed Vegetable
Yeung Chow Fried Rice
Fillet Steak Cantonese Style Extra
£84.00
Contact Us
Find Us
116 Union Street, Oldham, OL11DU
We deliver to
OL1, OL2, OL4, OL8, OL9